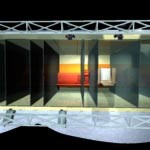 Am I in the picture?
A Voyeuristic Exhibit in the Museum for Sound and Vision located in the Hilversum Media Park
Visitors can take a seat in one of the glass cubicles mounted on an elongated red couch. This couch not only represents television viewers at home, but also alludes to participants in television shows like Blind Date and The Tonight Show.
Once you're in one of the glass cubicles, you decide to what extent you wish to participate. Do you want to actively get involved in a TV show or do you prefer to watch? Are you a voyeur or an undisguised exhibitionist? When you enter the cubicle it is transparent, but soon the glass becomes matted and ready to display the projected images. You can also contribute to the production of a TV show. You may want this show to play back before it is broadcast, but you can also choose to go live on air within the building. Passing visitors can see exactly what you are doing and what kind of excerpts you're watching. Isn't that exactly what interactive television and reality television is about?